COVID-19 Travel Planning
I normally only post my visits, sites and locations, but I thought I should try sharing my thoughts on travel planning in general.  This has become a living blog to share the details as they unfold.
It looks like most countries are still not opening or have open dates to plan an international vacation in the second half of the year yet…or being faced 14 day quarantines if you can enter.
Updated September 8th, 2020. The real question is whether you will need a "vaccine passport" to travel for the next few years as implied in this recent CNN article?
Updated August 17th, 2020.  Still no updates for Americans, but you can now travel between Israel and 20 other countries with no quarantine.
Updated July 2nd, 2020.  The great country by country guide has now updated on where Americans can travel.
Updated June 30th, 2020.  It looks like the EU will not allow Americans to visit this year.  Yes, it is official, Americans cannot travel to EU as reported by WSJ.
Updated June 4th, 2020.  Delta will block all middle seats until September 30th.  Premium and First Class cabins will also be limited.  How will this affect families looking for vacation travel?
Updated May 26th, 2020. Will the airport experience be miserable for the foreseeable future as shared in this latest observation?  And here is what hotel loyalty programs may look like in the year ahead.
Updated May 19th, 2020. Will the new airline rules make business and vacation miserable as shared by WSJ?  It is going to be difficult for a while.  Forbes also has some region by region guidance posted but not as detailed as the Points Guy.
Updated May 10th, 2020.  Austria is now indicating that if you do not want to be quarantined, you can pat $190 for a virus test.  Is this going to be the new visa fee for high end business travelers and affluent vacationers?
Updated May 6th, 2020.  Now, 2 major cruise lines have cancelled all summer cruises.  Will there be any summer cruises anywhere this year?
Updated May 4th, 2020 with additional links and articles.  Will see see "immunity passports" become a reality?  Some countries are already looking at 2-3 hour tests upon arrival to determine if you can enter the country or will be in quarantine.
The Challenge
2020 is a challenging year due to COVID-19.  Travel, adventures and vacations have been basically stopped (locked down). I was fortunate to actually get married at the very last minute before Washington and Nevada states locked down all their residents.  Here is our story and how we got married in Las Vegas.  What an adventure, but what if we still wanted a honeymoon, what would we have done?
Fortunately, we did not plan an immediate honeymoon, but we did plan one much later in the year based on our dream preferences.  It is clear that travel is pretty much impossible in March and April, and even though many states are hinting they will start to relax restrictions in May, it is probably unrealistic plan a serious trip in that month.
Vacation Planning
Let's start thinking about this summer.  June, July and August.  What states and cities will be open?  Is there any way to think about what countries borders will be open and not require mandatory 14 day quarantine like in Israel?  As of today, it is hard to get almost anywhere based on published restrictions.
Will anyone be able to travel to Europe from the US at all this year?
The questions that come to my mind.  If we have a long weekend planned (and booked) in NYC in August, what should we do?  Will it be safe?  Will it be open?  Will our flights still be available?  What if the flights are still available, but it is still not safe to travel and both states are locked down?
Conde Nast Traveler on MSN had a good recent article based on several travel experts.  Summary: there is no easy answer.  Even now that phases of lockdown easing being announced, it is not clear when which locations will be opened and which will not.  How to predict?
Numerous questions come to mind!  What states will be in phase 3 when we want to visit?
Should we cancel our flights now?  Will we get a refund or just a credit?  Should we wait to the last minute?  Will the cancellation fee reductions return if we wait too long?  So many questions!  The Points Guy blog shared an interesting story on requesting a voucher versus a refund.  In general, it appears to be best practice to wait to the last minute to see if your flight is cancelled by the airline.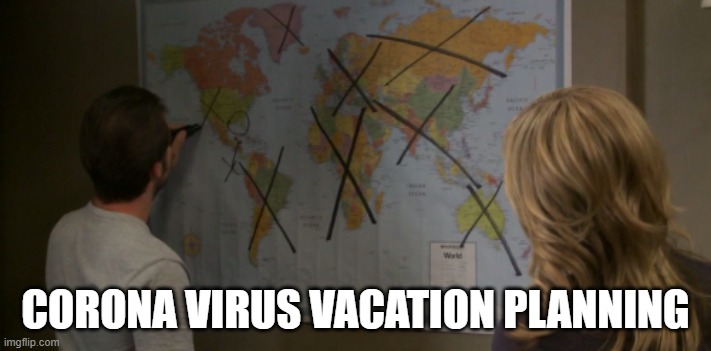 So the tough question: if you want to plan a vacation, should you plan now or wait until there is a vaccine or complete normalcy for a continues 3-4 months?  Will either be possible or occur in 2020?  Not likely.  The Washington Post had a good article on this topic, but it is probably pay walled for many people.  I think we should all be prepared to think more about NEXT year and less about this year.  Painful, but that appears to the best forecast based on the latest data when writing this blog.
I want to take a side path on vacation travel for a moment and discuss business travel a little bit.
Business Travel
People love, crave and like business travel because of the frequent flyer/guest perks.  Many of us were worried that the airline and hotel programs would suffer during the lock-down as travelers would not be able to maintain their status.  The good news is peer pressure occurred and most of the programs have extended or rolled over status to 2021.  This is awesome.  Here are some of my current favorites:
Now, Bill Gates has recently stated that business travel has and will change forever.  (Sorry about the business insider paywall everyone if you are not a subscriber).  Now, the question in my mind is:  "Will that persist?  Will business travel never return as part of our vulture, operating model and how business is performed globally?"  This could impact the overall travel industry and how people use frequent flyer/guest perks to travel to places they never would have considered if they had to pay full price.
Will this reduce loyalty if the benefits of mileage/hotel credits are not as easily achieved as previously accomplished by many travelers?  Time will tell…
Business Traveler is a good source for tracking some of the latest news. India is one of the largest destinations for business travel and the Indian government has declared that all domestic and international flights are banned/blocked.  They are not even allowing airlines to offer ticket sales according to Forbes.  We must assume this will impact international business, opportunities and engagements like never before.
The Economist published an interesting article that the expectations and experiences for business travel may change dramatically and frustrate many.
Stay tuned, if interested, I may provide periodic updates on this blog.
Back to Vacation Planing
Now, let's get back to vacation planning as that is what this blog is all about!
There are some amazing deals out there.  They may be at prices that you may never encounter or see again.  They could be once in a lifetime opportunities.  It is probably worth the risk of booking and hoping the virus will die down and not continue for another year.  But surprisingly, I am not finding many domestic (United States based) opportunities opening up yet.  They are all still holding at the standard economy prices at this time.  That may change if the lock-downs persist.
Is this like current homeowners that wanted to sell their homes, but are not taking them off the market because they do not want to take a reduction in price?  They are going to hold to the previously high prices and not accept any slowdown or reduced demand?  Hmmm….
Now Forbes, has hinted that some cheap deals may be appearing around the world in one of their latest articles.  I have started looking around myself, but I am not seeing major discounts, price reductions or frequent flyer/guest point reductions quite yet for destinations in the latter part of the year.  It appears that most of the world is still betting that the fall time period (Sep – November) will return travel and activities to normal.
However, I think some deals are starting to appear and I am continuing to explore and take notice of some expensive resorts and destinations that would normally never be affordable.  But the risk is no refunds.  I think this is where choosing your travel company, agency, hotels and carriers is important.  Do you trust they will provide reliable "credits" in their system if you or they cancel the reservation?  If not, you may want to look further before putting down a deposit.
Shutdowns and Bankruptcies
How many airlines will go bankrupt and never come back?  What hotels will be closed and never open?  Will some resorts take your money and then shut down?  There are some clear risks here.
I did expect some regional airlines to be risky and close permanently like South Africa airlines.  But I was not expecting Virgin Atlantic to be at the high of a risk.  Does this mean that more are ahead?
Summary
It is going to a challenging year.  Be patient, but take some risks and plan for the dream vacations. The reality is most plans should target 2021 and not 2020.  Until we have vaccines, we will be restricted.
If you do plan, be comfortable with credits and vouchers.  Be flexible and ready for change.  Don't be disappointed if the trip does not work out and is cancelled due to continued COVID-19 lock-downs and restrictions.
And most importantly don't assume refunds if there are cancellations.  As you know, you should never assume!